Obituary for Gaetano B. "Tom" DeSimone
CARBONDALE - Gaetano B. "Tom" DeSimone, 89, of Melbourne, Florida, passed away on Monday, March 11, 2019.

Gaetano DeSimone was born on February 3. 1930, in Santa Ninfa, a small town in the Province of Trapani on the island of Sicily. Generations of his family lived and died in the same town. His parents, Francesco and Francesca (nee Giaramida) had nine children and he was the youngest. After the end of World War II he emigrated to Canada and then to the United States. He married Marie Alice Vespoli in July of 1955. In 1963, they purchased a home in West Babylon, NY and raised two daughters, Frances and Louise. He worked as a laborer for the Town of Hempstead and retired in the mid-1990s. He and his wife moved to Melbourne, Florida, where she died in 2001. Daughter Louise Hannaford died in 2011. He is survived by his daughter Fran and her husband M. Daniel Becque of Carbondale, IL and grandchildren Simone (Brian Steinbach), William (Jordan), and Bradley.

Several years ago, Fran wrote this post for her blog. It still rings true:

For all intents and purposes, I am a first-generation American. My mother's family was newly arrived in New York City when she was born in the 1930s. My father would not arrive in America until the 1950s. Of my four grandparents, I only knew one, my mother's mother. She died when I was six or seven. I was the first in my family to graduate from college.
My father grew up in Sicily during World War II. Over after-dinner glasses of wine, he tells my husband stories of what it was like as a young boy; he was the man of the house because his older brothers were at war and his father had died a few years earlier. He recounts stories of stuffing rags in bicycle tires because inner tubes weren't available. Or stories of being sent with the family donkey to the miller with the small grain harvest, not knowing where to go or what to do, having to rely solely on the donkey's ability to lead him to the miller. Or of seeing bombs being dropped on his homeland. The stories make me sad because they remind me how tough his life has been.

He came to the United States in the 1950s, after a few years in Canada, where he worked at a ski resort. After being in sun drenched Sicily, the snow and cold of Mont Tremblant winters must have felt extreme. When he and my mother married and settled on Long Island near her family, he was working in a pizzeria. He was a hard worker and juggled two and three jobs throughout my childhood. After I was born, he was hired as a laborer for the town. We hated when it snowed on Christmas because it meant that he would be driving a snow plow and he wouldn't be home with us. He worked for everything he acquired – a house, a used car, a small boat. My sister and I have college degrees. He insisted that we become lawyers or accountants, but neither of us wanted to follow either career and we majored in other fields. I often wish I'd listened to him on that account.

My father's mother died just before Christmas when I was nine or ten. I remember my mother mentioning it briefly, but our Christmas celebration wasn't affected by her death, as it would have been if she had been part of our day-to-day life. I recall in retrospect that my father was especially subdued that Christmas. I am not sure I realized his sorrow at the time.

I never saw a picture of my father's mother until I was an adult. In the late 1970s, my father's uncle sent him a picture that was taken shortly after my grandfather's death. My father has a black armband and my grandmother is dressed in black. Although I never met her, it is my face in the picture. We have the same stature; the same face, nose and frown lines. It's hard to recognize my dad as a young boy.

Two summers ago, I was in Florida helping my father as he recovered from knee replacement surgery. In cleaning a closet, I came across a small torn and tattered picture of my dad, his mother and one of his sisters taken shortly before he left Sicily. I asked him about the picture and he told me that he carried the picture in his wallet for most of his life. It was the only touchstone he had of the family he left decades earlier.

When my twin sons turned 18, I realized that they were the age my dad was went he left Italy. And then it hit me that he never saw his mother again. The tears started to flow and they wouldn't stop. I knew how difficult it must have been for them both – for him to leave his home in a war-torn place for the promise of a better life. And to have a family of his own and work hard to provide for them but not have the money to return home for a visit. He wasn't able to get back to Sicily until he was in his 50s.

I am grateful for all that he and my mother gave me over the years and the sacrifices they made so that my sister and I would have a better life. Words will never convey the gratitude I have for all that he's done for his family.
To send flowers or a remembrance gift to the family of Gaetano B. "Tom" DeSimone, please visit our Tribute Store.
Events
Event Information
No services will take place.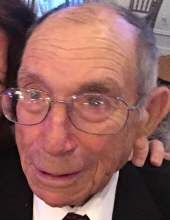 Thank you for sharing your
memory of Gaetano
Provide comfort by sending fresh
flowers from our local florist.
No thanks, please don't show me this again.